Tree Felling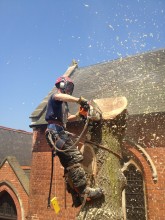 There are a number of reasons why a tree may need to be felled and removed.
This may due to the tree being dangerous due to damage being caused by a storm.
The tree may be suffering from disease and may need to be felled to prevent further spread or because the tree has died as a result of disease or just come to the end of its life.
Tree felling may also be required if the tree is in the way of a new development or causing damage to existing property's.
Tree felling is the complete removal of a tree down to ground level. This work involves the careful lowering of branches and timber so as not to cause damage or destruction to surrounding plants and structures. The stump will be left as close to the ground as possible but will be above soil level. If required we can also grind out the stump enabling you to regain the area the tree once took.
Nichols and Sons Tree Surgeons are experts in tree felling in Sutton, Surrey and surrounding areas. We are fully qualified and hold Public Liabilty and Products insurance to £5 million.