Stump Removal and Stump Grinding
Once a tree has been felled as close to ground level as possible, you may require the stump to be removed, especially if you are planning to replant in the same area or build over the area.
Our stump grinding service provides the most efficient form of stump removal. With minimum disturbance we can grind the tree stump down to approximately 8" below the surface which is an adequate depth for laying a lawn or concreting over.                 
The chippings from this process are left in situ to back fill the hole & mulch down, once this has occurred you will be left with a flat surface to build over or re-plant.
We can grind out any size of stump from just a few inches to the size of a small car and bigger.
If you do not wish for the stump to be ground out we can treat the stump with a product which will ensure that the tree does not re grow.
If access to the stump is an issue it is possible that we can dig the root out by hand.
We have several different size machines, one can even fit through a standard house door so can be taken through a house if required.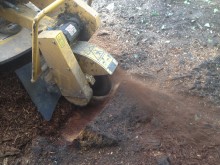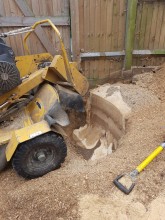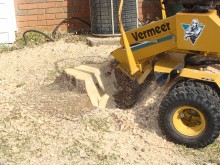 We are experts in Tree Stump removal and have been offering this service in Sutton, Surrey and also covering Wimbledon, Mitcham, Morden, Cheam, Ewell, Epsom, Carshalton, Kingston, New Malden, Worcestor Park and the surrounding areas.
Contact us today to discuss your tree stump grinding requirements and request a free estimate.